Model boat MNV-TB07
$53,21
International delivery:


The international delivery policy will be confirmed case by case.

Domestic delivery outside

Ho Chi Minh City:


Payment on delivery is acceptable. Domestic shipping fee depends on

product specifications and

delivery location.
Delivery in Ho Chi Minh City, Vietnam:
Free delivery within 04 working hours after confirming the order.
Return and Refund:
We hope you will love everything that you order from us but if something isn't quite right, you have 07

days to return.

Detailed information:
View full Delivery Policy
Let's visit our showroom:
We warmly welcome you to our showrooms to see many other products. View The Map.
Soleil Royal (Royal Sun) was a French 104-gun ship of the line, flagship of Admiral Tourville. She was built in Brest between 1668 and 1670 by engineer Laurent Hubac, was launched in 1669, and stayed unused in Brest harbour for years. She was recommissioned with 112 guns and 1200 men when the Nine Years' War broke out in 1688 as the flagship of the escadre du Ponant (squadron of the Ponant). She was said to be a good sailing ship and her decorations were amongst the most beautiful and elaborate of all baroque flagships. The emblem of the "sun" had been chosen by Louis XIV as his personal symbol.
The size including prow (length x width x height): 53x12x47cm
Soleil Royal
The Soleil Royale ship model is also built in larger and even much more detailed versions. Larger ship models of the Soleil Royale measure up to 1.15 metre and 2.30 metres respectively.
As the flagship of the French Navy, Soleil Royal (Le Soleil Royale) was sumptuously decorated with wooden carvings symbolic of the French monarch.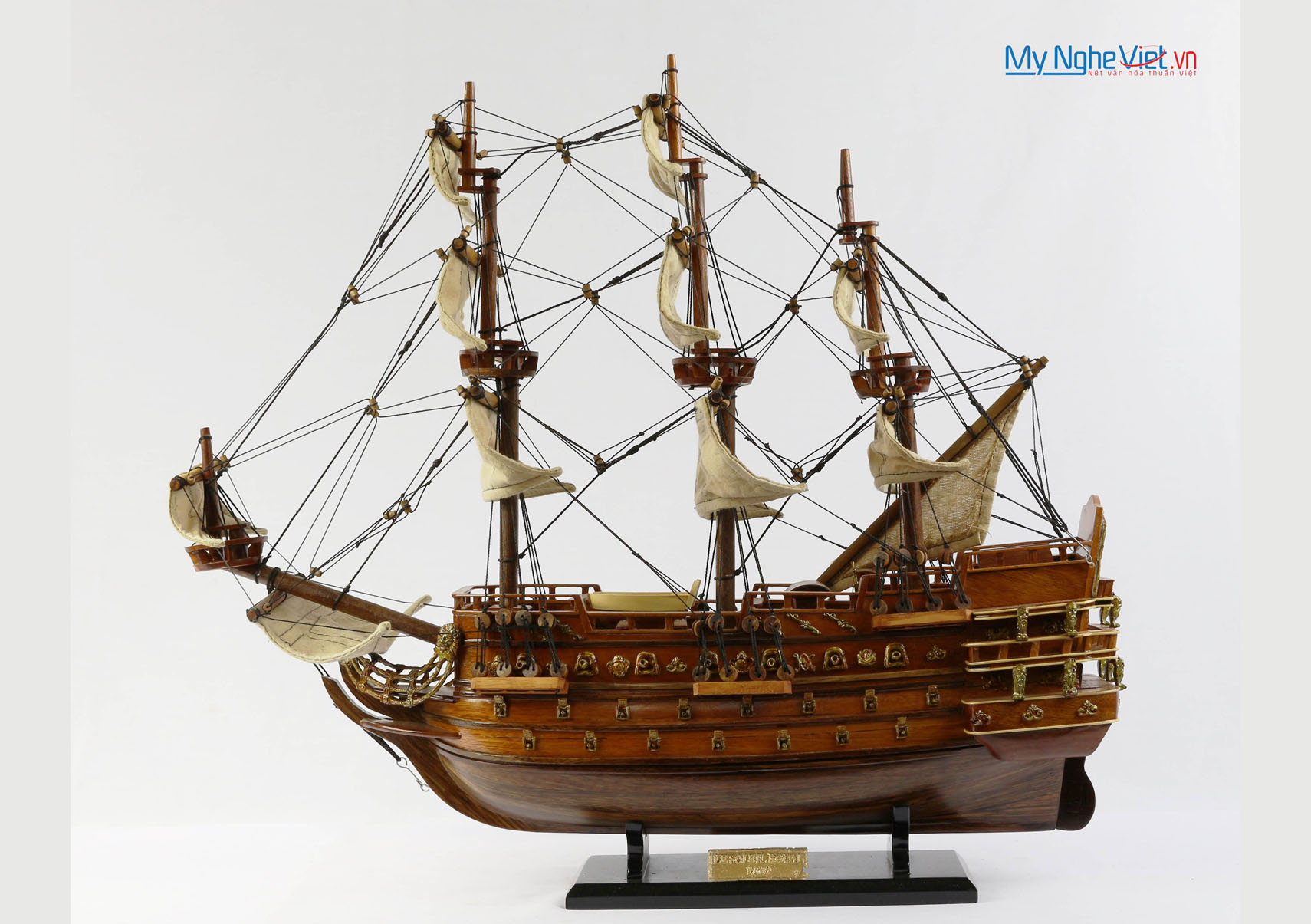 The Soleil Royale measured about 250 ft. overall and at the waterline she was about 187ft. Her beam was about 51ft. The hull of the ship was painted blue and laced with ornate designs in gold befitting a Kings vessel. The ship's decorations were by the court's painter Charles Le Brun and the carvings were given shape by Antoine Corsevoix.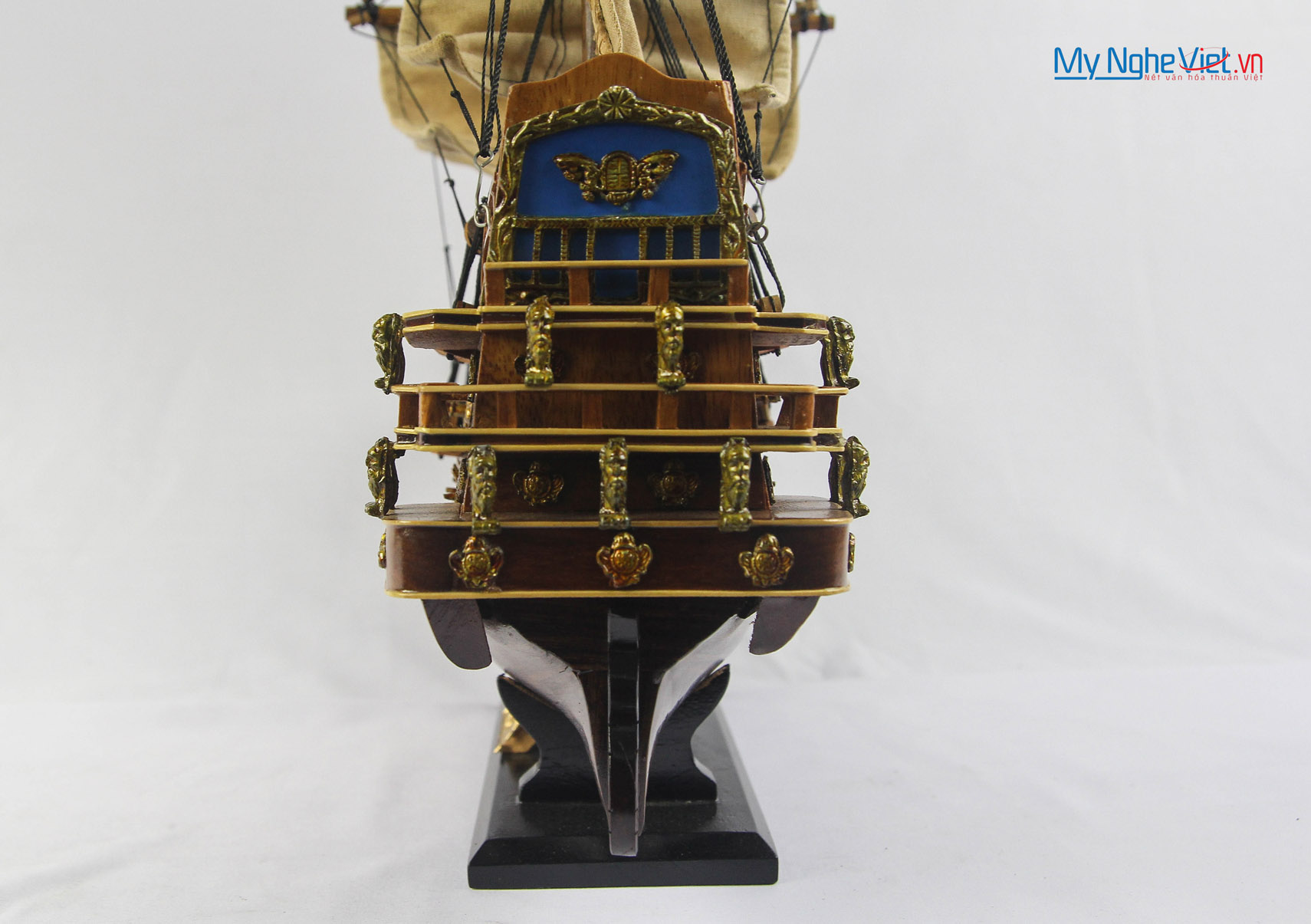 The famous battle of Soleil Royal:
Battle of Beachy Head
Soleil Royal was recommissioned with 112 guns and 1200 men when the Nine Years' War broke out. She departed Brest on 22 June 1690 as flagship of Anne Hilarion de Tourville. She spent three days in Camaret-sur-Mer waiting for favourable wind before sailing to Isle of Wight where the English fleet was thought to be anchored. Two ships sent in reconnaissance located the English anchored at Beachy Head.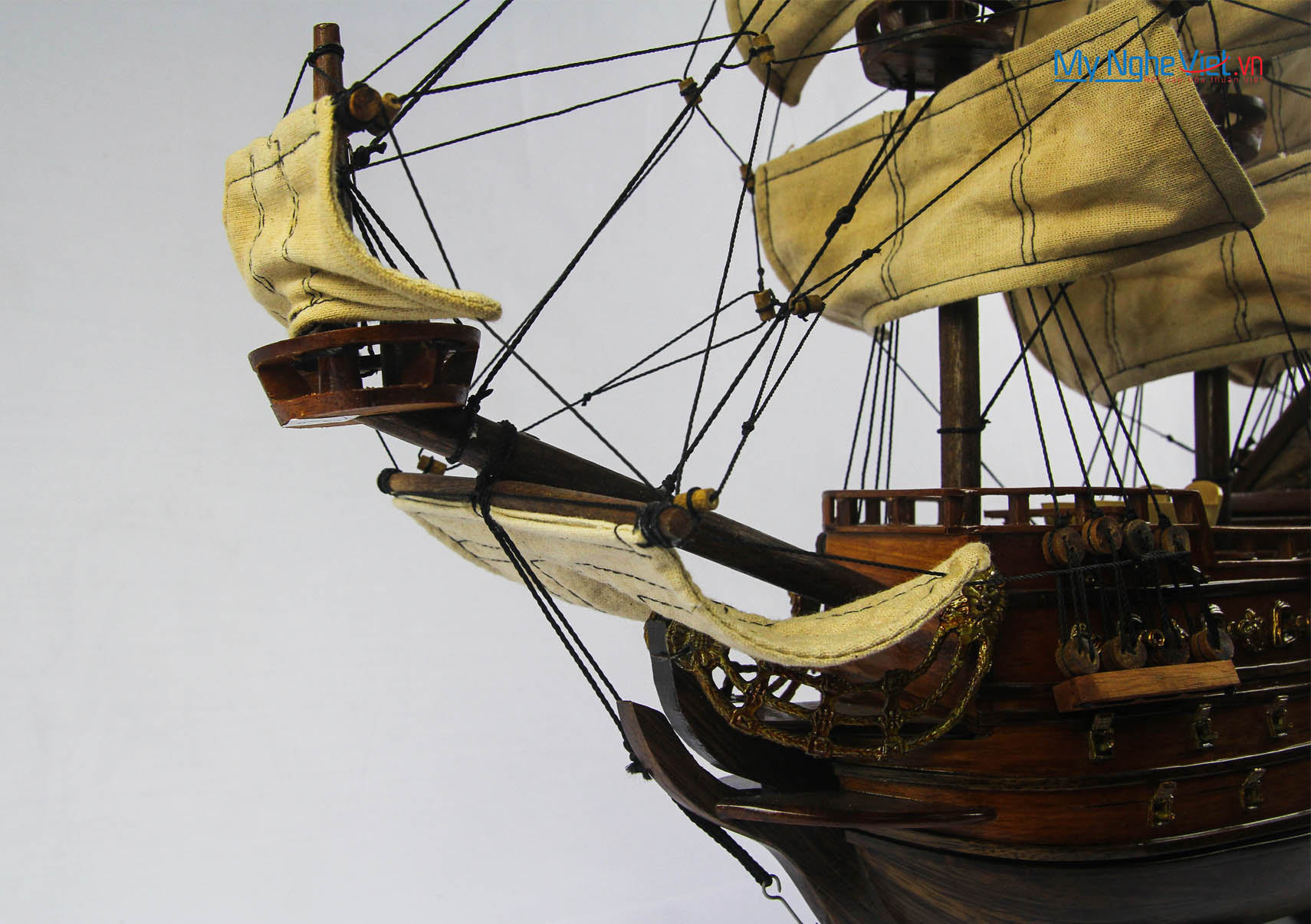 The Battle of Beachy Head (known in French as "Bataille de Béveziers") began in the morning of the 10 July 1690 when the French surprised the English ships anchored. Soleil Royal led the centre of the French formation.
Battle of Barfleur
In 1692, on the 12th of May, now carrying 104 guns, she left Brest, leading a 45-vessel fleet; on the 29th, the squadron met a 97-ship strong English and Dutch fleet in the Battle of Barfleur.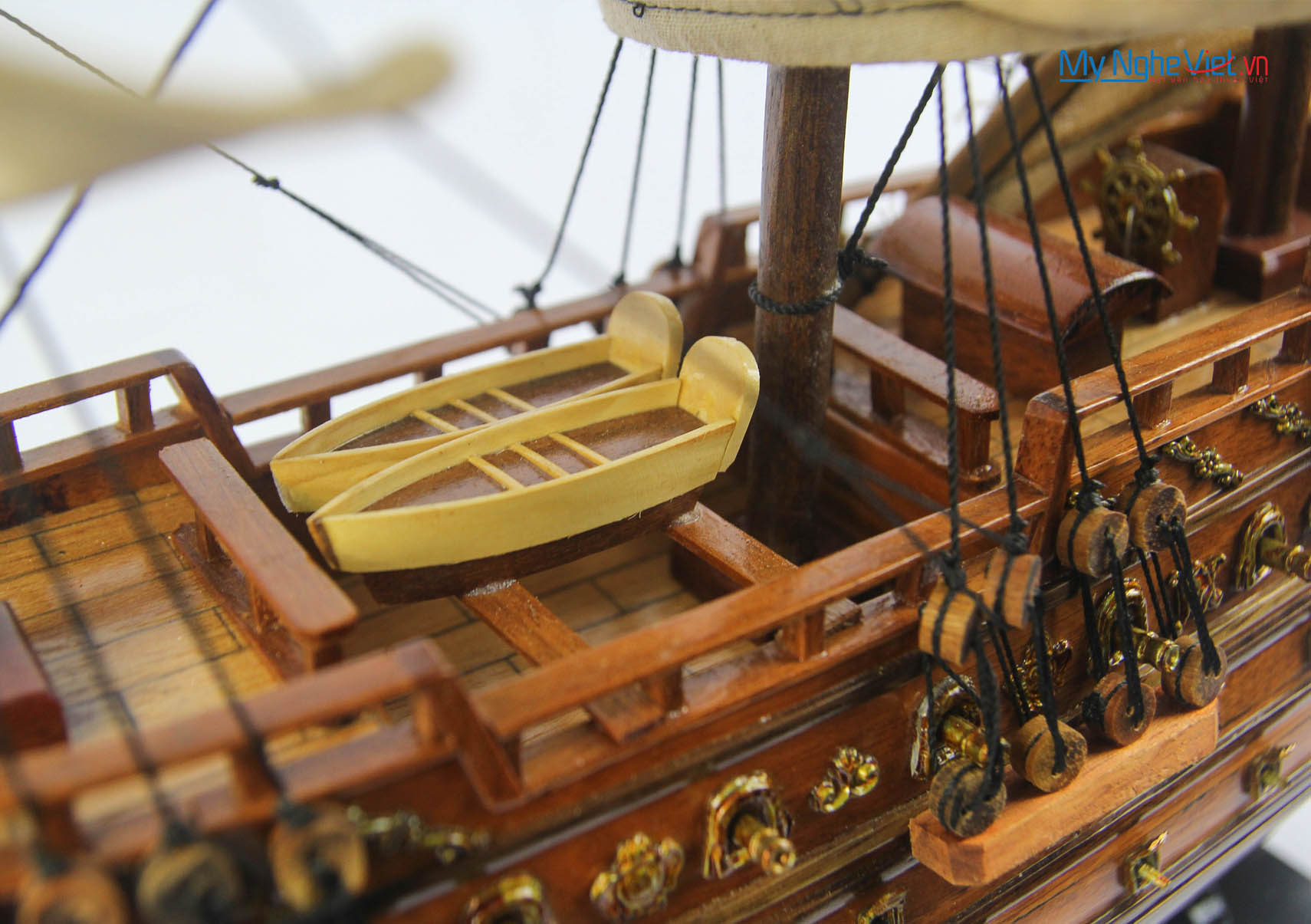 In spite of their numerical inferiority, the French attacked but were forced to flee after a large-scale battle resulting in heavy damage to both sides. The Soleil Royal was too severely damaged to return to Brest, and was beached in Cherbourg for repairs, along with the Admirable and Triomphant.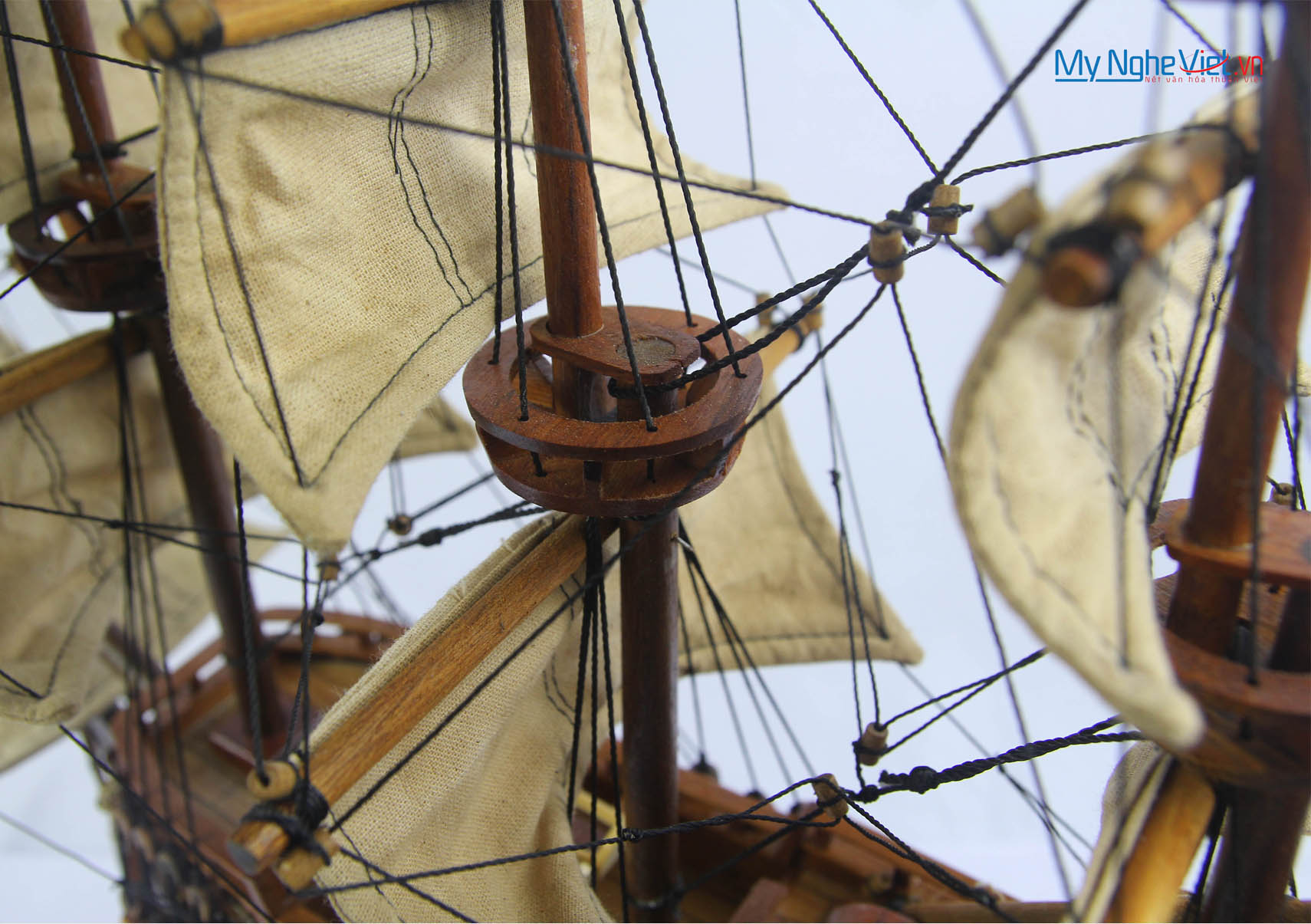 Battle of La Hougue and the end of the Soleil Royal
During the night of the 2nd and 3 June, at the Pointe du Hommet, she was attacked by 17 ships, which she managed to repel with artillery fire.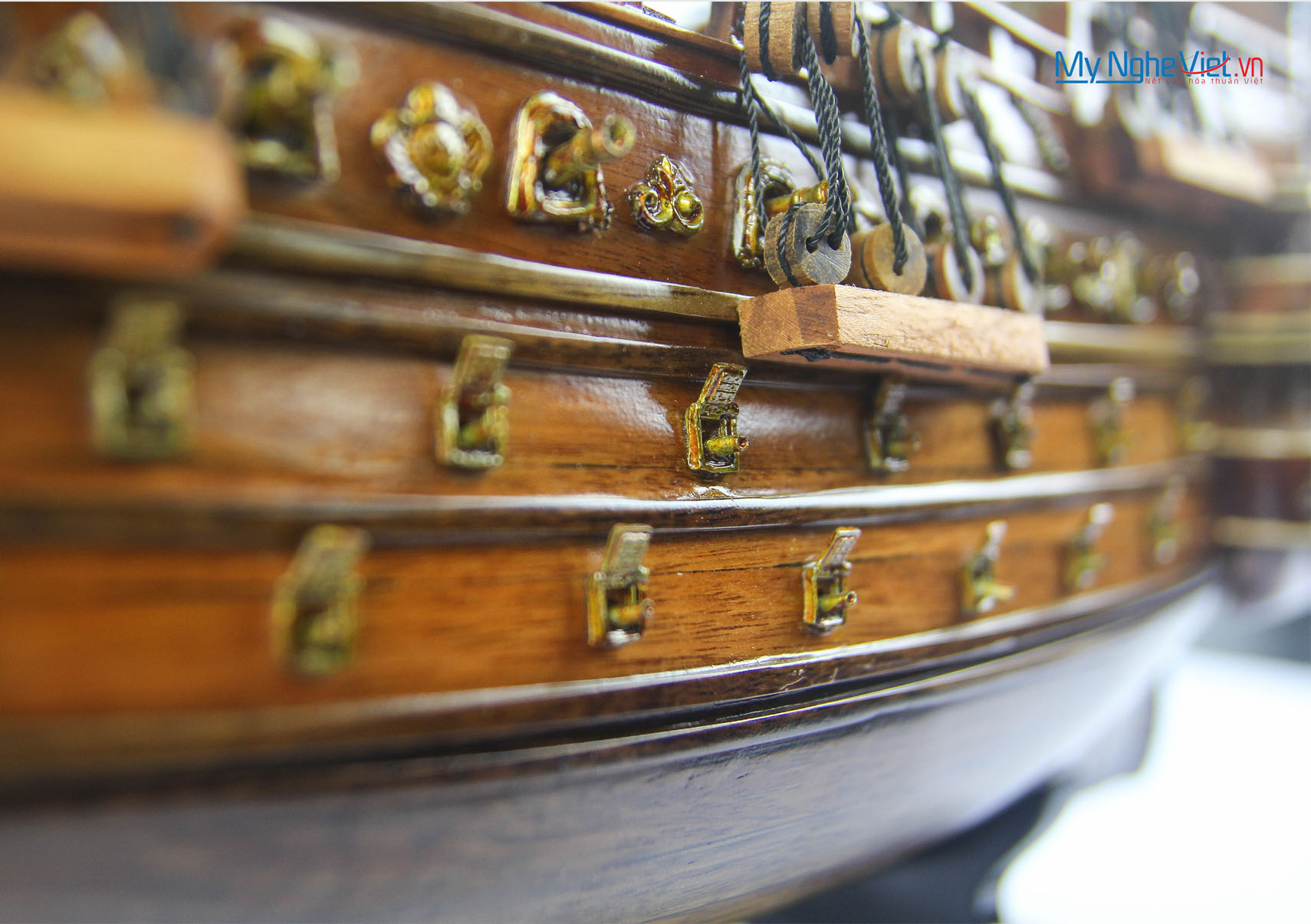 However, a fireshipset her stern on fire and the fire soon reached the powder rooms. Although the population of Cherbourg came to rescue, there was only one survivor among the 883 (or even 950)-strong crew. The remains of the Soleil Royal now lie buried beneath a parking space next to the Arsenal.
Customers can refer more pictures and other ship model products Right here
Set of products includes
01 wooden boat
Made Products: Made in Vietnam
Product sizes: Body length 40 cm
Weigh Product: 2000gram
Packing: Carton box
Instruction use and preservation: The boat can be display in your living room, working office or a gift for your friends
Policy change delivery: Products can be returned within 01 week
Delivery information: Delivery within 1-4h (after order confirmation) in HCM City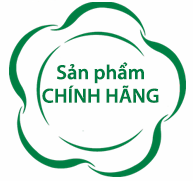 We are a member of Vietnam E-commerce Association (VECOM), member of Handicraft and Wood Industry Association of Ho Chi Minh City - Vietnam, and is certificated by Ministry of Industry and Trade.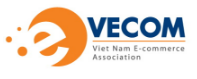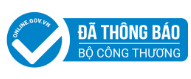 Showroom: 212 Bui Ta Han Street, An Phu Ward, District 2, Ho Chi Minh City (close to METRO supermarket)