While in Paris (France), Heloise Petit studied lacquer paintings at the university. With love and passion, the young girl continued her journey to Vietnam.
Wafaa Fardani (Moroccan nationality) and Heloise Petit (French nationality) are two close friends who pursue art. In July 2012, the two girls organized an exhibition of their works at a bar located in a small alley, on Giang Van Minh Street, Hanoi, Vietnam.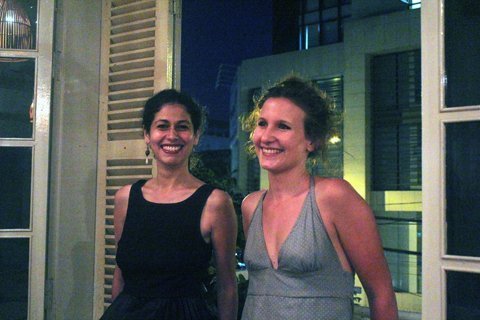 Wafaa Fardani (left) and Heloise Petit (right)
- When did you start drawing?
Wafaa Fardani: I can't remember. I started painting at an early age. Heloise is the same. She learned art when she was in high school, and then specialized in lacquer painting at university in Paris.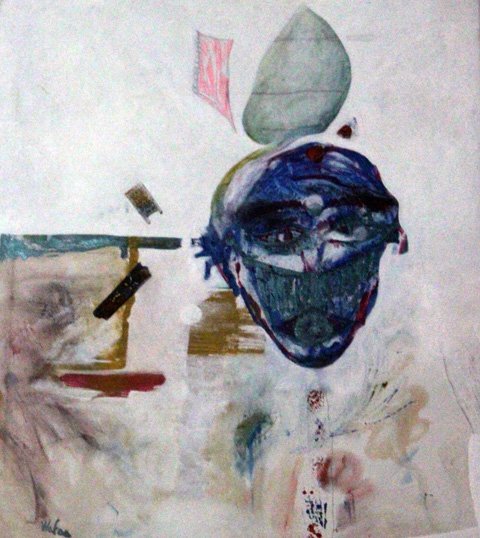 At university, I learned about theater. At that time, I learned about performing more than painting. Later, besides oil painting, I also painted lacquer paintings.
- What made you come to Hanoi and organize a painting exhibition?
Wafaa Fardani: I have lived here for 5 years because my parents are here. They had lived in Hanoi a long time before I arrived. I like this city.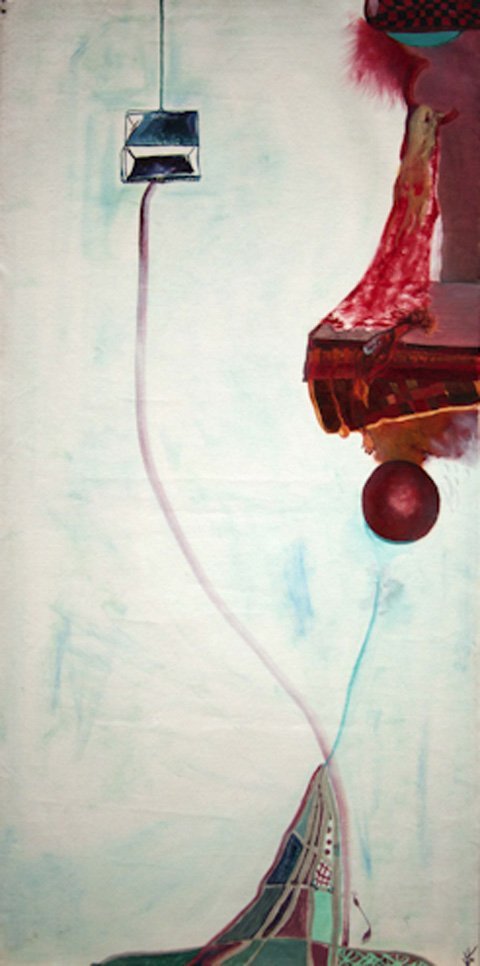 Heloise Petit: I learned to paint lacquer for 3 years in France. I love this kind of painting, so I came to Vietnam to continue my studies. Our exhibitions include oil paintings and lacquers. The oil paintings are of Wafaa. The lacquer paintings are composed by Wafaa's mother (her name is Naina
Deniale
) and me. Actually, this is an exhibition of 3 people.
- I was surprised to learn at a university in Paris teaches lacquer painting. This is a "specialty" of Vietnam. I saw how an artist made this type of painting. It is very picky. We have to grind the material until very small and then go through many stages to make a picture.
Heloise Petit: I like to take the time to make small and detailed things. When I was studying lacquer painting at a university in Paris, I liked it. In Paris there aren't some materials like in Vietnam, so we had to replace them with other things. Now I'm able to access your traditional ingredients.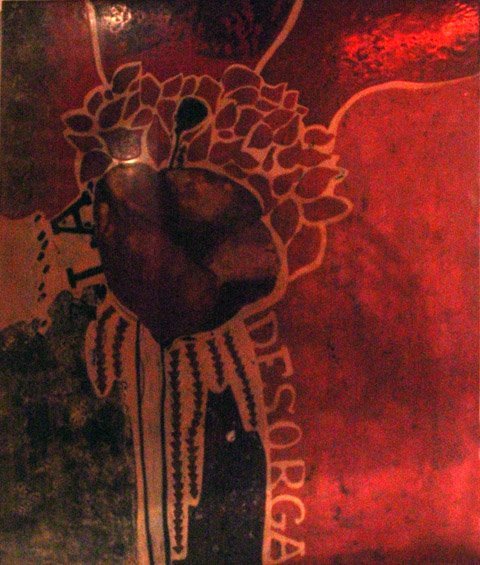 Heloise Petit's lacquer painting
- I'm also impressed with the Wafaa oil paintings. These youthful paintings are sexy with white and red - the color of femininity.
Wafaa Fardani: Thank you for the compliment! (laughs) You know, women are topics that are most regularly described in
art
, especially painting. Women want to say a lot about their gender, and about their feelings. At this exhibition, I put the feminine pictures together.
I also painted men. There is a picture in the exhibition. I describe a man suffering from headaches because of too loud music.
- It looks like the works are very "international"
Wafaa Fardani: No, I painted them recently, while living in Hanoi. That's how I look at Hanoi. You may feel it is not a familiar Hanoi, but I do not reproduce the values. I have actually seen the city in such a way, including the state and emotion.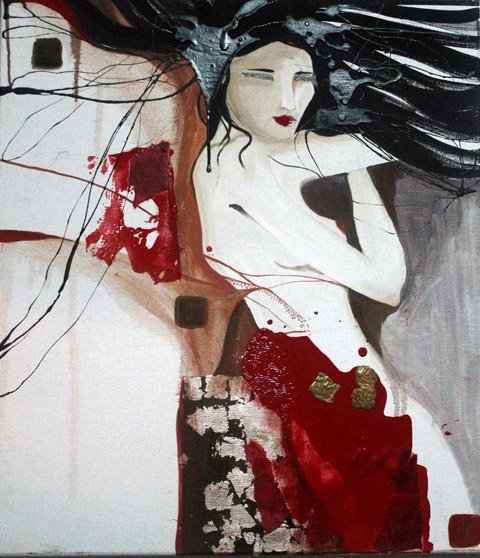 Paintings by Wafaa Fardani
- Foreign artists in Hanoi are making the richness of contemporary art. I'm curious about a voice coming from within the group ...
Wafaa Fardani: I know about them, and of course Vietnamese artists too. I like the works. Sharing the point of view and working together is very interesting. But artists from different countries mean that the view will also be global.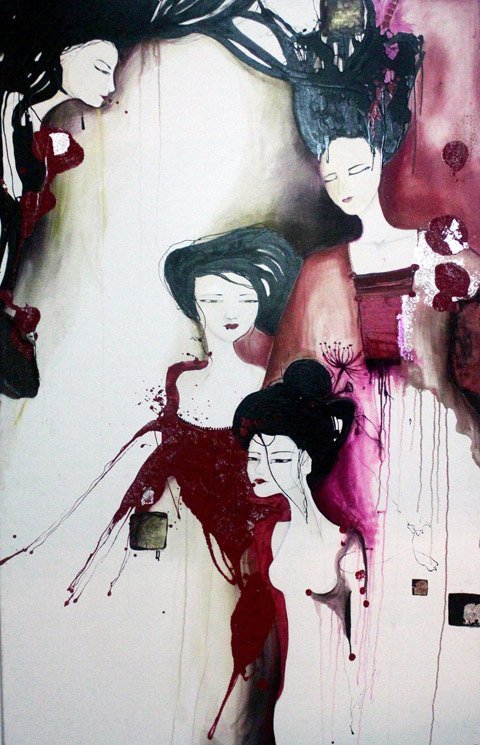 They wrote about Hanoi according to personal observation. And me too. My works are inspired by Hanoi, but I do not have the same perspective with other artists.
- I'm thinking of a competition for Vietnamese artists.
Wafaa Fardani: (laughs) Maybe right!
- Can you name some impressive ones?
Wafaa Fardani & Heloise Petit: It's hard! I do not remember correctly and fully, but can be mentioned here Le Quang Ha, Phuong Vu Manh, Truong Tan, Cuong, Thai, Son Lam ... Many people ...
- Do you notice the difference between generations of artists in Vietnam?
Wafaa Fardani & Heloise Petit: I think there is a difference: in perspective, in choosing objects, ideas ...; But I do not feel too strange or unexpected.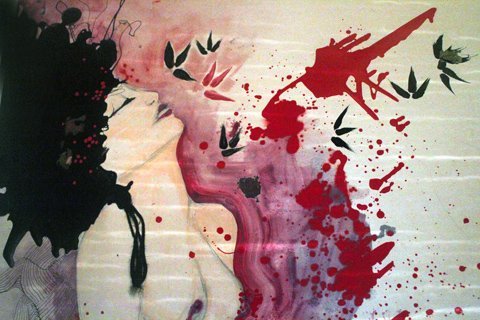 Painters in the previous generation tend to choose specialized subjects, focusing on something, such as the village. And the village is very different now. They also seem to have a lot of time for the work. It shows how long they have looked at / observed about an entity, an object. The things they do are very significant. When I went to the exhibitions of the older painters, I found it quite interesting.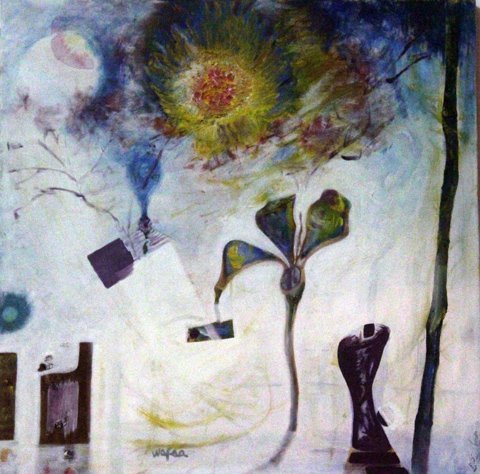 Generations often have very different products. This can be found anywhere in the world. At times this connection closes and reduces the sense of separation.
Vietnam is a little more special because of your history. So it seems to the younger generation, they are looking to expand the direction for contemporary art.
-
Thanks
, Wafaa and Heloise!